Notes for MORTON LLOYD VINER:

Son of Mark and Rosalind (Dunn) Viner.
Born: February 5, 1931 in New York City, New York.
Alternate Date of Birth: March 5, 1931.
Died: June 22, 2003 in Los Angeles County, California.
Cause of Death: Heart attack.
Buried: Plot: Sanctuary of Love, left side; Westwood Memorial Park, Los Angeles, Los Angeles County, California.
Occupation: Prominent agent in Hollywood best known for his long association with Dean Martin, whose current clients included Michael Crawford and Shirley MacLaine, and who over the years represented Jimmy Stewart and Gene Kelly.
Married: Donna Phyllis Gershon January 15, 1953 in Los Angeles, Los Angeles County, California.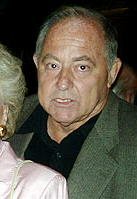 (Source: findagrave.com/http://lifeinlegacy.com/2003/WIR20030628.html#P27)

Marriage License/Certificate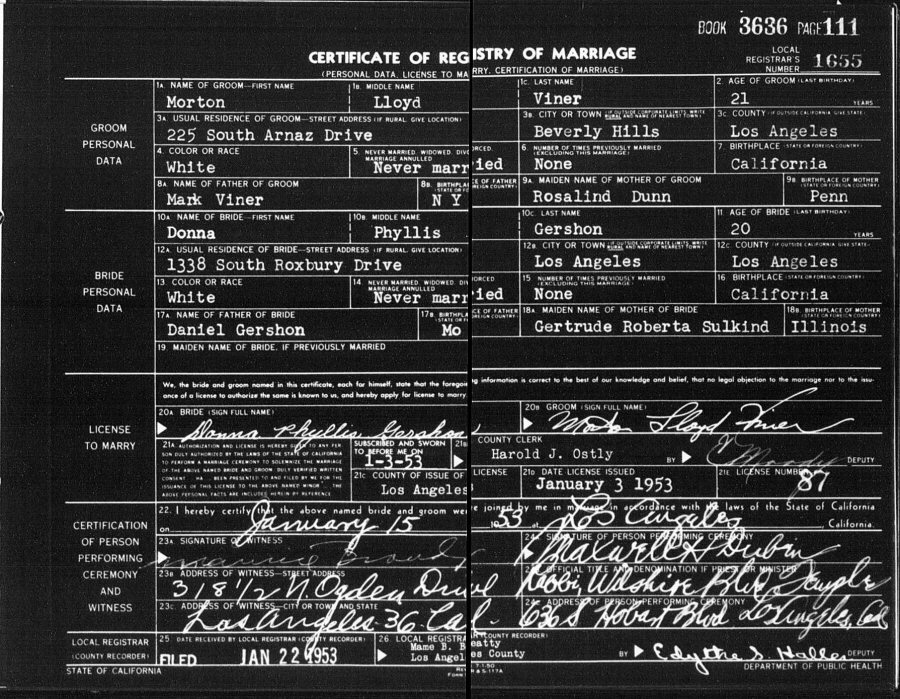 Obituary
Variety
Mort Viner
ICM agent
By Melissa Goldberg
Longtime ICM tenpercenter Mort Viner, died Sunday June 22 from a heart attack while playing tennis in Los Angeles. He was 72.
Viner began his career in Gotham working for MCA and was transferred to the BevHills headquarters, where he stayed until MCA was dissolved in the 1960s. He went on to become senior exec at Chasin, Park, and Citron Agency before nabbing a position at ICM, where he stayed for more than 30 years.
Viner's list of clients included Shirley MacLaine, Michael Crawford, Jimmy Stewart, Gene Kelly and good friend Dean Martin.
He is survived by many friends who request that in lieu of flowers please send donations to the Motion Picture and Television Fund.
Private services are Thursday, June 26.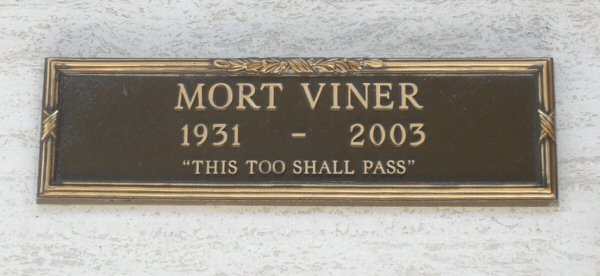 (Source: findagrave.com/Mark Masek)