Notes for JOHN THOMAS FLETCHER:

Son of Townsend and Susannah (Ready) Fletcher.
Born: March 14, 1833 in Fauquier County, Virginia.
Died: January 22, 1920 in Washington County, Iowa.
Buried: About January 22, 1920 in Columbus City Cemetery, Columbus City, Iowa. Migration: 1884 - Washington County, Iowa.
Residence: The Fletcher farm, 112 acres, was located two miles northeast of the town of Crawfordsville, Iowa.
Census: 1850 - Princeton, Bureau County, Illinois.
Married: Catherine Kinnick March 13, 1859 in Bureau County, Illinois.

Catherine Kinnick is the sister of Jacob James who married John's sister, Fannie and of Joseph who married John's niece, Rachel Mercer.

In the 1877 list of Voters & Taxpayers of Bureau County, IL, John T. Fletcher is listed in Sec. 10, P.O. Buda, farmer, Rep., U. Brethern, born Virginia, 1833. An 1867 map of Concord Township shows J. Fletcher in Section 10, just north of Edick's Pond, in the same section as Thomas Richmond, and just south of the Kinnick place, about nine miles north and one mile east of Buda.

60th Wedding Announcement
March 1919 newspaper clipping: Celebrate 60th Wedding Anniversary. Last Thursday was a big day at Mr. and Mrs. J.T. Fletcher's home northeast of town when their 60th wedding anniverary was celebrated. These excellent old people were married in Bureau Co, IL, 60 years ago on that day. There were 43 present, children, grand-children, and great-grandchildren, at the reception. All the children were present except O.L. Fletcher of IL.

J.T. Fletcher was born in Virginia 86 years ago last Friday and Mrs. Fletcher was born 77 years ago. They lived in Bureau Co until 1883 when they moved to their present home on a farm northeast of Crawfordsville where they have resided every since. They were the parents of 12 children, one daughter dying in Illinois and ll children still living. The dinner was a bountiful one, turkey, chicken, and everything that goes to make a feast, that the Fletcher girls know so well how to prepare.

Mrs. Frank Hull of Williamsburg, KS, Mr. and Mrs. Eugene Fletcher and children of Columbus Junction, Mr. and Mrs. Roy Fletcher of Winfield were there to help celebrate. It is hoped by their host of friends they live to celebrate their diamond wedding anniversary.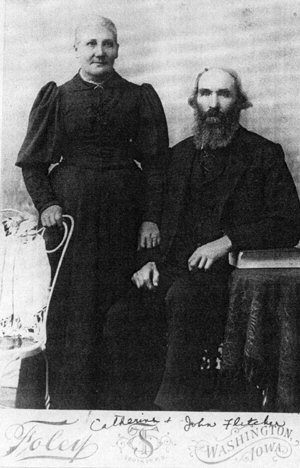 1850 Census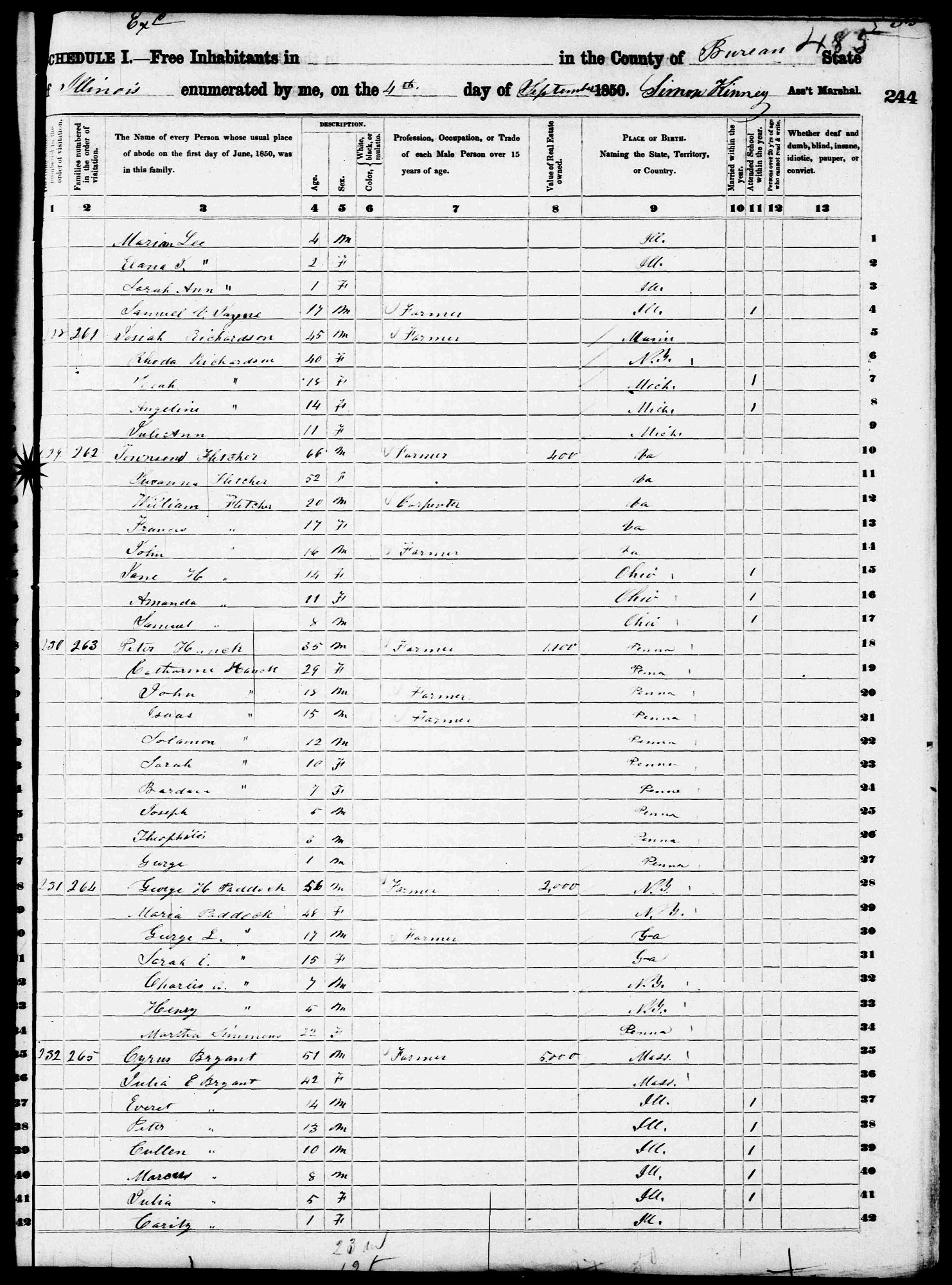 1850 Census
Name: John Fletcher
Residence: Princeton, Bureau, Illinois
Age: 16 years
Calculated Birth Year: 1834
Birthplace: Virginia
Gender: Male
Race (original):
Race (expanded):
Death Month:
Death Year:
Film Number: 7672
Digital GS Number: 4193248
Image Number: 00124
Line Number: 14
Dwelling House Number: 229
Family Number: 262
Marital Status:
Free or Slave:
Household Gender Age
Townsend Fletcher M 66y
Susanna Fletcher F 52y
William Fletcher M 20y
Frances Fletcher F 17y
John Fletcher M 16y
Jane H Fletcher F 14y
Amanda Fletcher F 11y
Samuel Fletcher M 8y