Notes for ALVIN IRA FEINMAN:

Son of Morris and Frieda (Kaplan) Feinman.
Born: November 21, 1929 in Brooklyn, Kings County, New York.
Died: July 11, 2008 in North Bennington, Bennington County, Vermont.
Census:
1930 - Districts 0501-0750, Brooklyn, Kings County, New York.
Occupation:
Poet, professor at Bennington University, worked in films in NYC.
Married: Deborah Dorfman January 16, 1992 in Bennington, Bennington County, Vermont.
NOTE: Obituary says wife of 50 years. See marriage/license and obituary below.
Marriage License/Certificate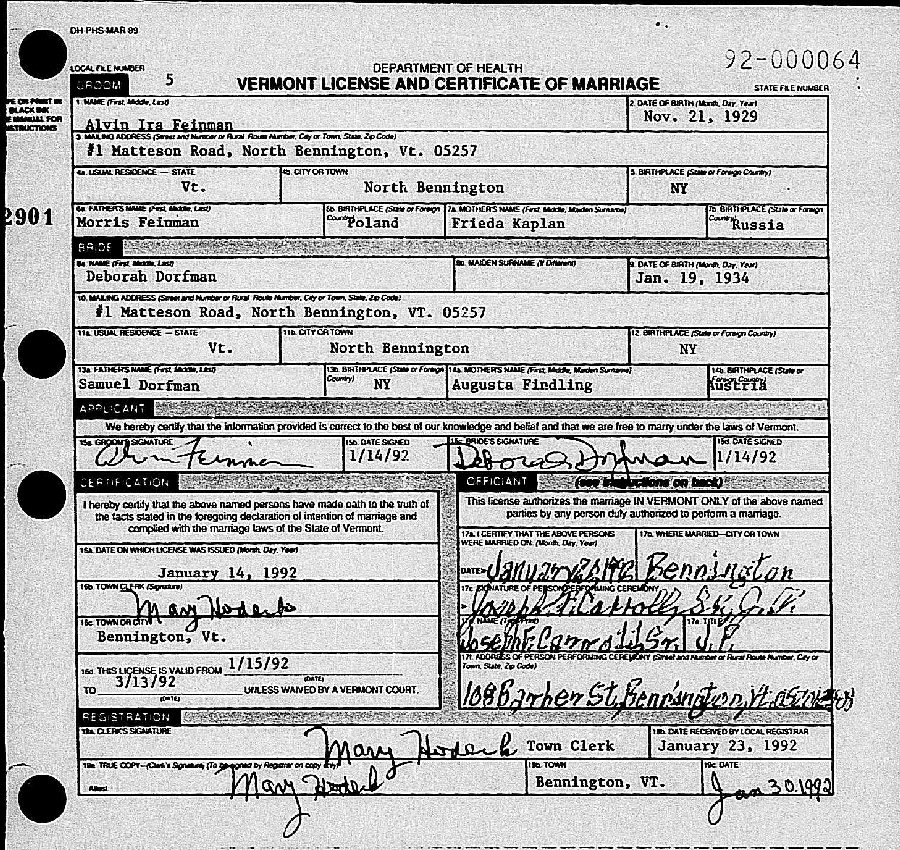 Obituary
Alvin Feinman
July 14,2008
NORTH BENNINGTON — Alvin Feinman, 78, died July 11, 2008, after a long illness.
He was born Nov. 21, 1929, in Brooklyn, N.Y.
He attended Brooklyn College and University of Chicago. He did graduate work in philosophy at Yale and taught briefly in Yale's philosophy department.
In New York City, Mr. Feinman worked in film and taught literature. In Bennington, he taught at Bennington College from 1956-1994. He authored "Preambles and Other Poems" (Oxford Press 1964) and an expanded edition, "Poems," published 1990 (Princeton U Press).
Survivors include his wife of 50 years, Deborah Dorfman; two sisters, Sylvia Losikoff and Vivian Krevoruck; nieces and nephews.
Funeral services will be private.
Memorial contributions may be made to American Parkinson's Disease Association, through the Mahar and Son Funeral Home, 628 Main St., Bennington, VT 05201.
(Source: Rutlandherald.com)