Notes for HELENE MARIE ALLAINGUILLAUME DOUARIN:

Daughter of Guillaume and Jeanne (Guillou) Allainguillaume.
Born: September 6, 1856 in Plouezec, Cotes-Du-Nord, Bretagne, France.
Died: August 16, 1935 in Blue Lake, Humboldt County, California.
Buried: Blue Lake Cemetery, Blue Lake, Humboldt County, California. Immigration: 1875.
Naturalization: 1875-1920.
Census:
January 5, 1920 - G Street, Precinct 1, Supervisor's District 1, Enumeration District 58, Mad River Township, Humboldt County, California.
April 4, 1930 - G Street, Supervisor's District 1, Enumeration District 12-28, Mad River Township, Humboldt County, California.
Residence:
1917-1933 - Eureka, Humboldt County, California.
Occupation: She and Francis were inn-keepers in Blue Lake.
Religion: Presbyterian.
Married: Francis "Frank" Douarin February 10, 1875 in Plouezec, Cotes-Du-Nord, France.

1920 Census
Name: Helen Donavin
[Helen Donarin]
[Helen Douarin]
Age: 63
Birth Year: abt 1857
Birthplace: France
Home in 1920: Mad River, Humboldt, California
Race: White
Gender: Female
Immigration Year: 1875
Relation to Head of House: Head
Marital Status: Widowed [Widow]
Father's Birthplace: France
Mother's Birthplace: France
Home Owned: Own
Able to Read: Yes
Able to Write: Yes
Neighbors: View others on page
Household Members:
Name Age
Helen Donavin 63
Ida Donavin 24

1920 Census





1930 Census
Name: Helene Douarin
Gender: Female
Birth Year: abt 1857
Birthplace: France
Race: White
Home in 1930: Blue Lake, Humboldt, California
Map of Home: View map
Marital Status: Widowed
Immigration Year: 1875
Relation to Head of House: Head
Father's Birthplace: France
Mother's Birthplace: France
Occupation:
Education:
Military Service:
Rent/home value:
Age at first marriage:
Parents' birthplace:
Neighbors: View others on page
Household Members:
Name Age
Helene Douarin 73
Victorine Williams 51
Marie Williams 18
Murray Harvey 33
Ida Harvey 35


1930 Census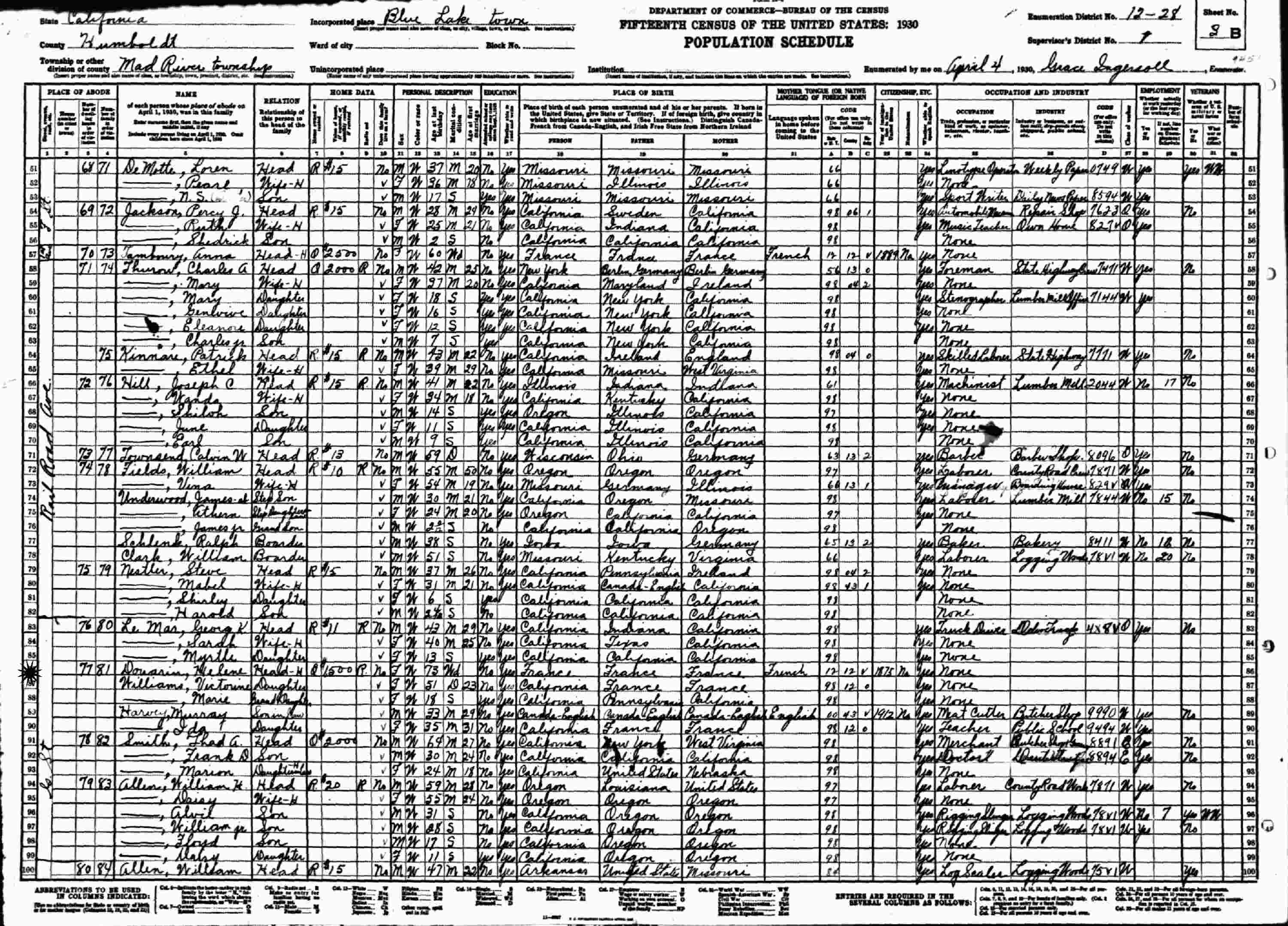 1917 Eureka City Directory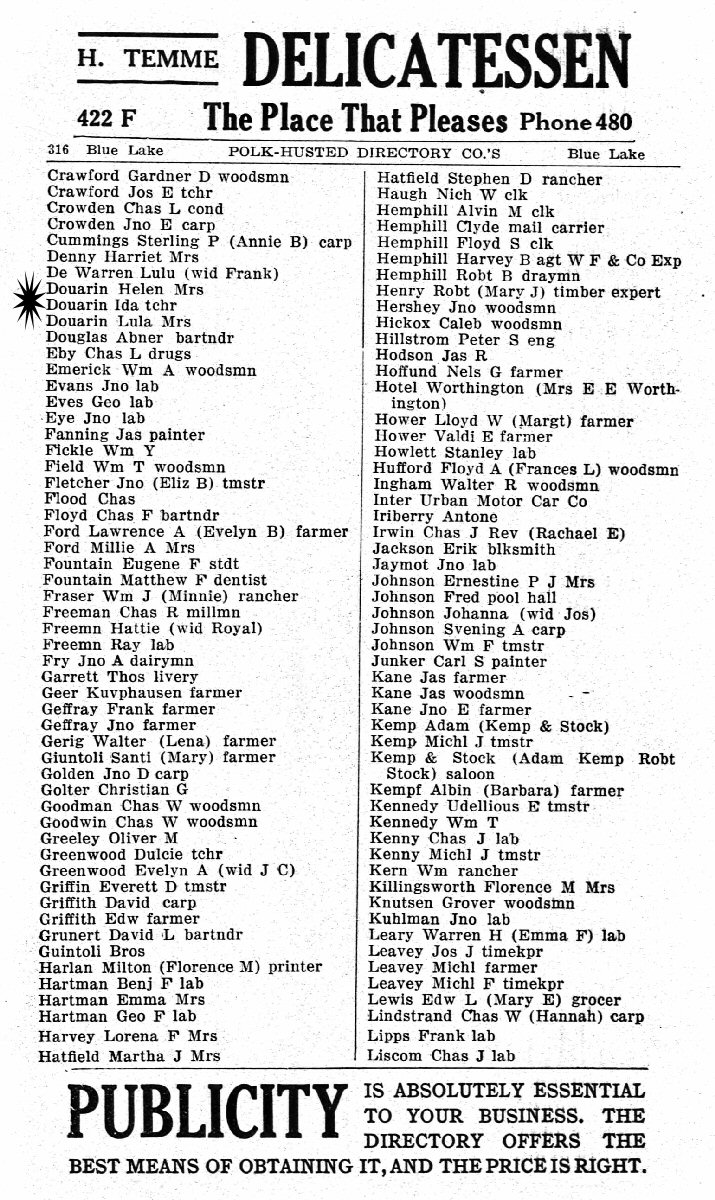 1923 Eureka City Directory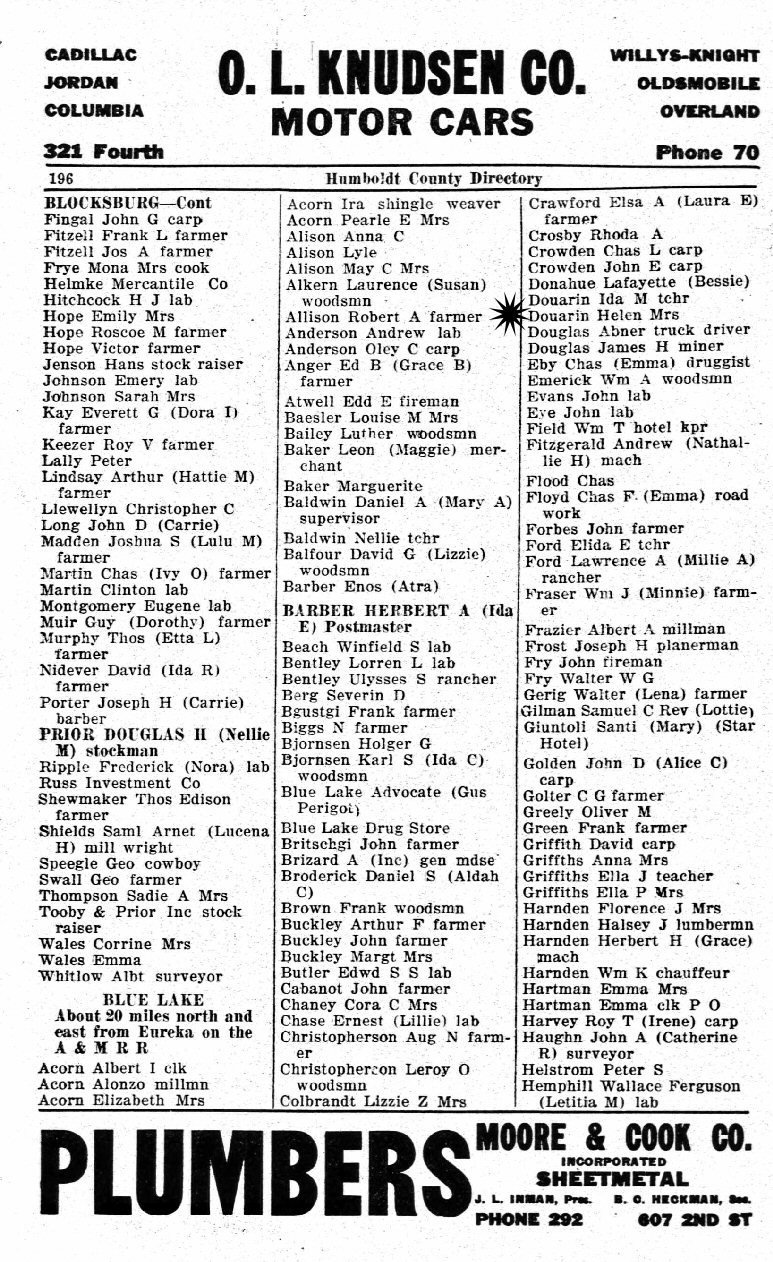 1929 Eureka City Directory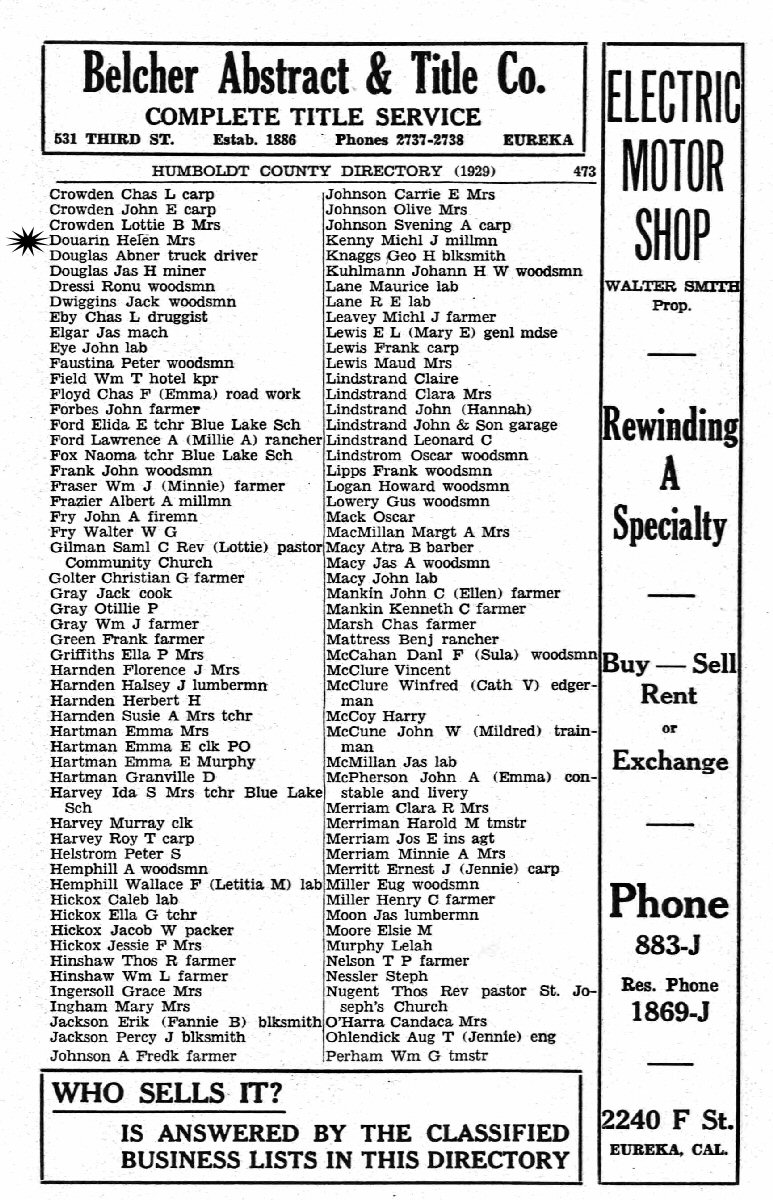 1930 Eureka City Directory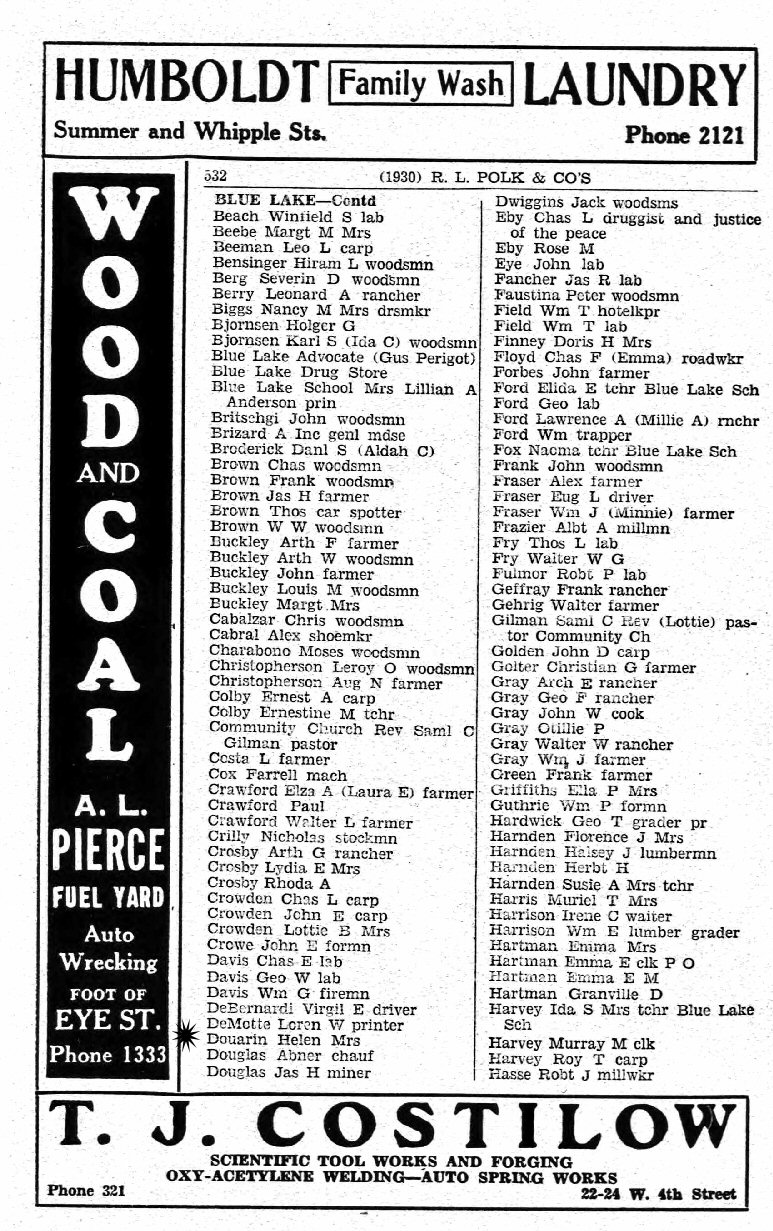 1932 Eureka City Directory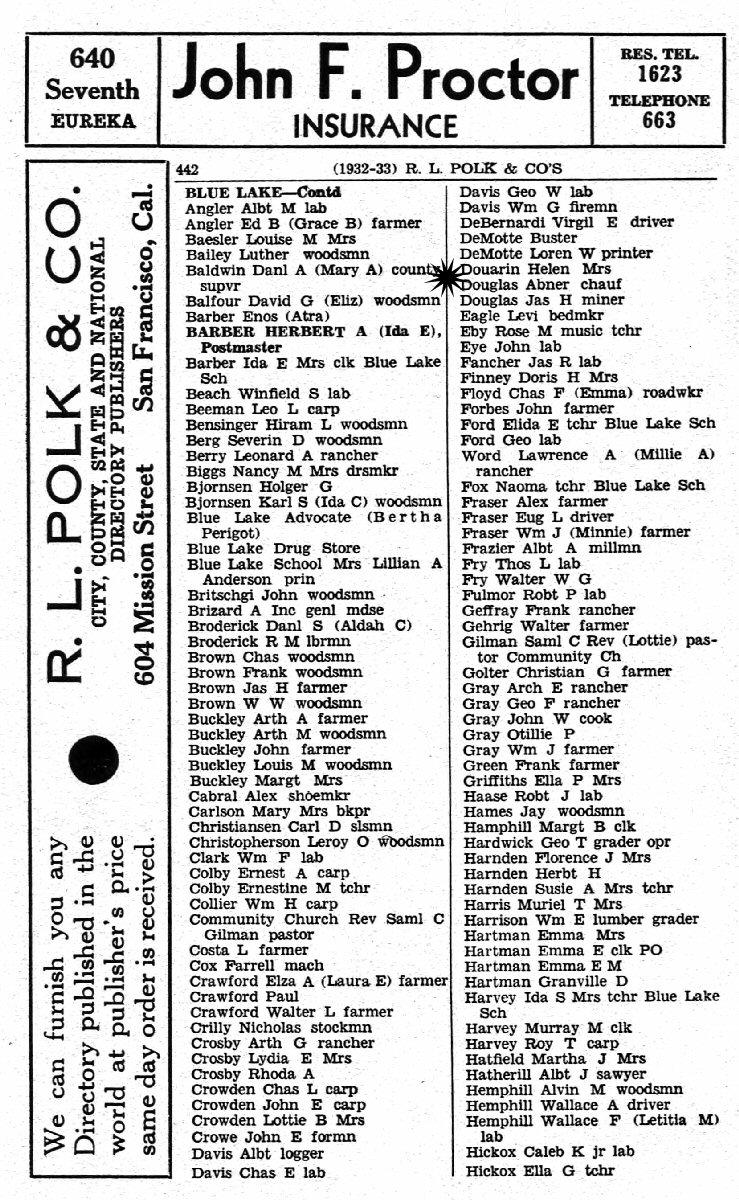 1933 Eureka City Directory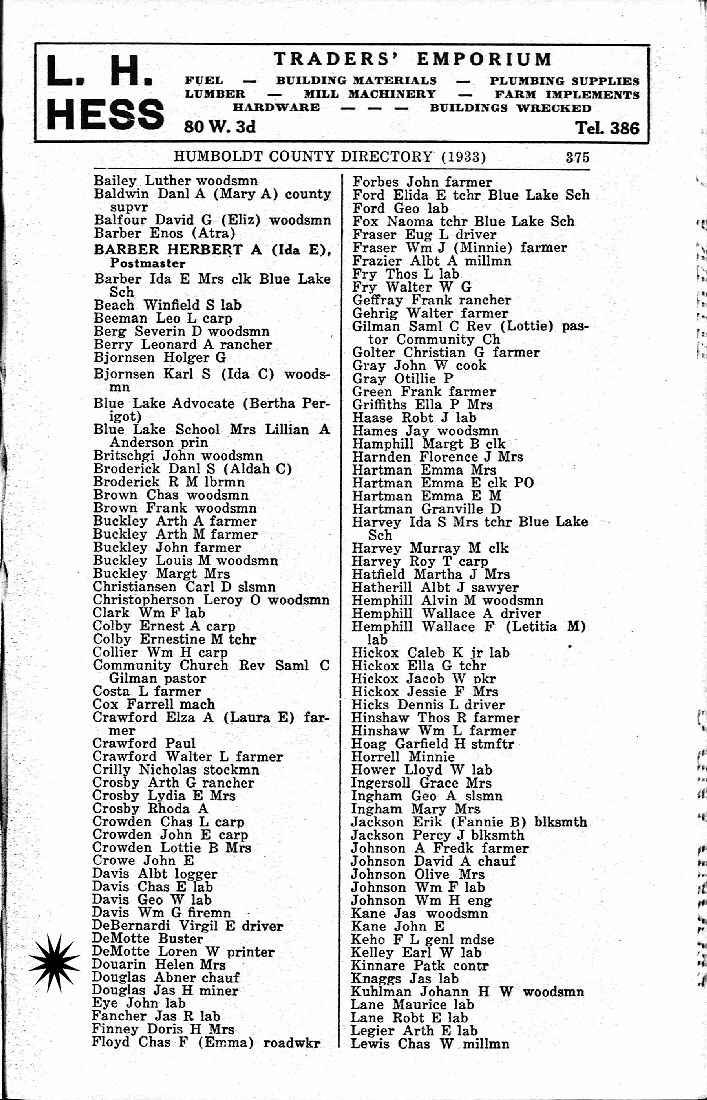 Military Pension Card For Husband, Francois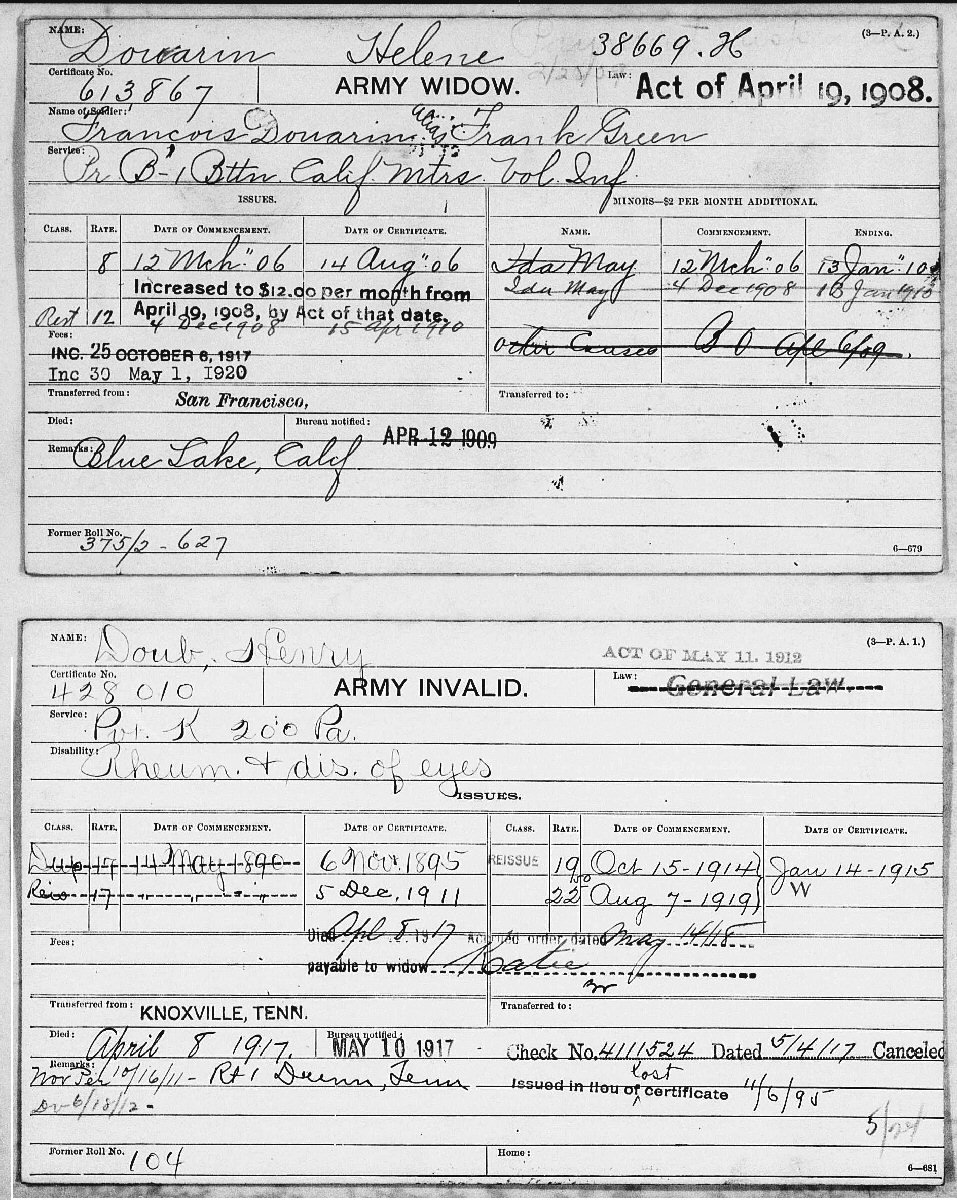 Death Index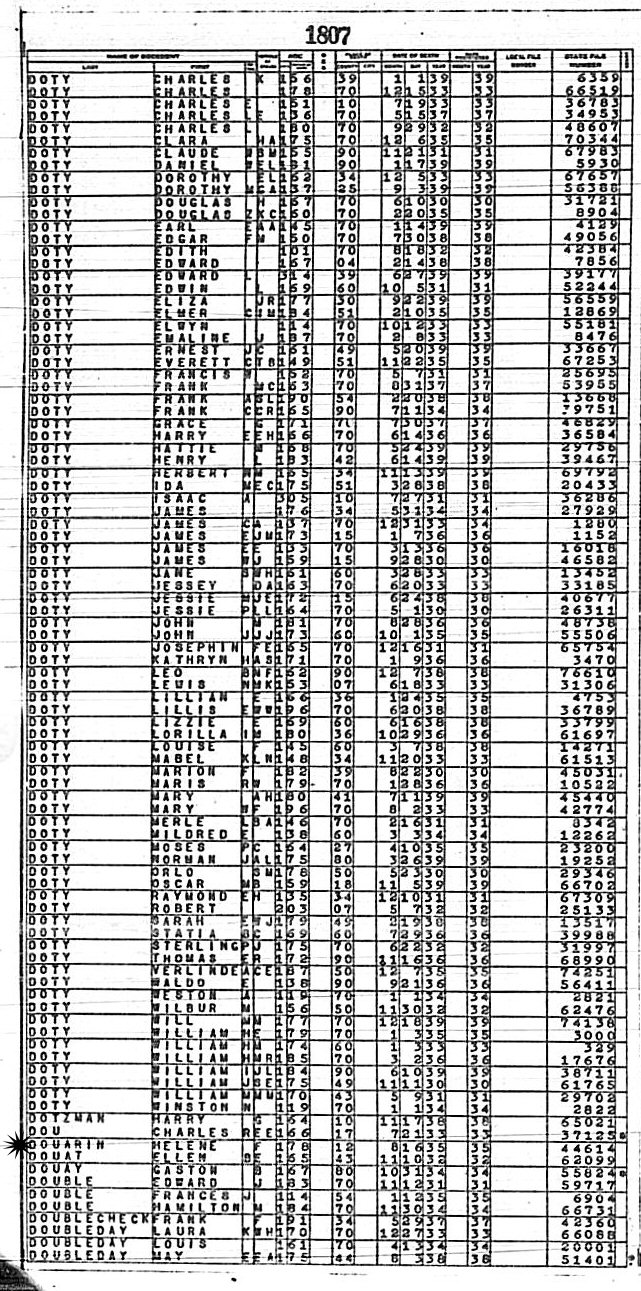 Obituary
Blue Lake Advocate, August 17, 1935
Blue Lake mourns this week the loss of one of its best known and highly esteemed pioneer residents in the person of Mrs. Helene Marie Douarin, who passed away at her home early this Friday morning following a stroke suffered about twelve days ago and from which she never regained consciousness.
Mrs. Douarin was born at Plouezec, Côtes-du-Nord, Bretagne, France on September 6, 1856 to Guillaume Allainguillaume and Jeanne Guillou. On February 10, 1875 she was married to François Marie Douarin, who had been in Humboldt County and who returned to France to claim his bride. They came to California soon after and settled in Arcata where they remained a few years. They moved to Blue Lake about 1885 to raise their six children. Douarin has made her home here ever since.
She leaves behind her children: Helene Marie (Mrs. Henry James Laverty), Victorine B. (Mrs. Daniel J. Williams,DDS), Heloise (Mrs. Hubert Alexander Baldwin), Ida M. (Mrs. Murray McArthur Harvey); and a sister, Mrs. Catherine Le Magot, in France. Her husband, who was a veteran of the Indian Wars, died here in 1905. Two of her children predeceased her: Marie Frances (Mrs. Thaddeus Albert Smith) in 1932 and Francis "Frank" Joseph in 1908.
Services were held at the Blue Lake Presbyterian Church with Rev. Gilman presiding. Mrs. Douarin was of a cheerful and happy disposition and counted her friends by the score, all of whom will deeply regret her passing.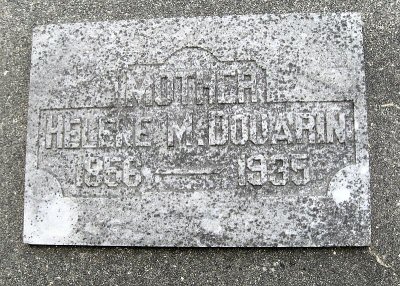 (Source: findagrave.com/Wes Keat)