Notes for GLADYS LOUISE LAVERTY MUIR:

Daughter of Henry James and Helen (Douarin) Laverty.
Born: April 3, 1904 in Blue Lake, California.
Baptism: October 2, 1904 By Rev T Dermody, St Bernards RCCh, Eureka, California. sponsors: Robert Rousseau & Kate McCoy.
Died: September 28, 1973 in Pismo Beach, San Luis Obispo, California.

Cause of Death: carcinoma of tonsils, heavy smoker.
Buried: Sunset Funeral Chapel, Los Osos Memorial Park, San Luis Obispo County, California.
Census: 1920 - Eureka, Humboldt County, California.
Occupation: Worked as a "supporting actress" in the Hollywood "movies" during the late "silents" and "early "talkies" era; her stage/ film name was Jean Bary or Jean Barry.
Residence:
1938 South Hobart St., Los Angeles, California.
Wawona St., Pismo Beach, California.
Las Vegas, Nevada.
Married: William V "Bill" Muir Unknown in Unknown.

Obituary:
San Luis Obispo County CA Telegram - Tribune on Monday, October 1, 1973
GLADYS MUIR--Graveside services for Gladys Jean Muir will be conducted Tuesday at 2 pm at Los Osos Valley Memorial Park. The Rev. Father Shehan of St Patrick's Catholic in Arroyo Grande will officiate.

Mrs Muir, 69, died Friday at her Pismo Beach home. She was born April 3, 1904, in Blue Lake and lived in the South County for more than a year.

Survivors are the widower, William of Pismo Beach; a stepson William H Muir of South Lake; a sister Margaret Billings of Eureka; and a brother, Henry Laverty of San Francisco.

Services are under the direction of Sunset Funeral Chapel, Grover City.

Screen Credits:
Tangled Trails (1921)... Mrs Hall ... aka Sands of Sacrifice
Matinee Ladies (1927) (as Jean Lefferty) ... Maizie Blossom
The Heart Thief (1927)
What Happened To Father (1927) (as Jean Lefferty) ... Gloria
The Trunk Mystery (1927)
When Seconds Count (1927)
Domestic Trouble (1928) (as Jean Lefferty) ... Grace
So This Is Love? (1928) .... Mary Malone
Bachelor's Paradise (1928) .... Gladys O'Toole
The Good-Bye Kiss (1928) .... Mlle. Jeanne
His Unlucky Night (1928) (uncredited)
The Chicken (1928) (uncredited)
The Fleet's In (1928) .... Betty
A Dumb Waiter (1928)
Prisoners (1929)
Campus Knights (1929) .... Pearl
Captain Lash (1929) .... Queenie
Fugitives (1929) .... Mame
The Great Divide (1929) .... Verna
The Cock-Eyed World (1929) (as Jean Barry) .... Fanny
Why Leave Home? (1929) (as Jean Bary) .... Jackie
Lilies of the Field (1930) (as Jean Bary) .... Gertie
Mothers Cry (1930) (as Jean Bary) .... Sadye Noonan Williams
Scarlet Pages (1930) (as Jean Bary) .... Carlotta Cortez
Bright Lights (1930) (uncredited) .... Violet 'Vi' Madison ... aka Adventures in Africa (USA: TV title)
June Moon (1931) (as Jean Barry) .... Miss Rixey
The Famous Ferguson Case (1932) (uncredited) .... Minnie Moody
The Great Jasper (1933) ... Actor
Strictly Personal (1933) (as Jean Barry) .... Hope Jennings
Diamond Jim (1935) (uncredited) .... Barmaid
Florida Special (1936) (uncredited) .... Violet
After The Thin Man (1936) (uncredited)...Chorus Girl
Hollywood Canteen (1944) as Composer (credited as Jean Barry)

1920 Census
Name: Gladys Laverty
Residence: Precinct 7 Eureka City, Humboldt, California
Estimated Birth Year: 1905
Age: 15
Birthplace: California
Relationship to Head of Household: Daughter
Gender: Female
Race: White
Marital Status: Single
Father's Birthplace:
Mother's Birthplace:
Film Number: 1820098
Digital Folder Number: 4293698
Image Number: 00810
Sheet Number: 2
Household Gender Age
Parent Henry J Laverty M 55y
Parent Helen Laverty F 42y
Gladys Laverty F 15y
Henry Laverty M 14y
Margaret Laverty F 8y

She is also noted in "WHO'S WHO'S HOLLYWOOD 1900-1976 by David Ragan" as one of the "LOST PLAYERS", that is one who is recognized as a legitimate actress but for which there is no "bio" available.

Purportedly she was instrumental in bringing Hollywood film stars Clark Gable and Carol Lombard together; also, she has reported that actress Jean Harlow had ermine toilet seats in her home.



Gladys Louise Laverty Muir.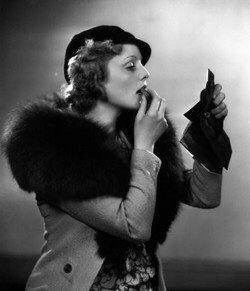 Helen Douarin Laverty and Gladys Louise Laverty "Jean Barry" Muir.