Notes for FRANCES ELOISE DOUARIN:

Daughter of Francis "Frank" J and Ursula "Sula" Mae (Pitzer) Douarin.
Born: About 1903 in Humboldt County, California.
Died: February 15, 1985 in Eureka, Humboldt County, California.
Buried: February 19, 1985 in Ocean View Cemetery, Eureka, Humboldt County, California.
Census:
May 6, 1910 - Supervisor's District 1, Enumeration District 16, Mad River Township, Humboldt County, California.
January 22, 1920 - Supervisor's District 1, Enumeration District 58, Mad River Township Township, Korbveltown, North Fork Precinct, Humboldt County, California.
April 8, 1930 - 2132 H Street, Ward 3, Supervisor's District 1, Enumeration District 12-12, Eureka, Humboldt County, California.
April 10, 1940 - 2132 H Street, Ward 3, Supervisor's District 1, Enumeration Numeration 12-5, Eureka, Humboldt County, California.
Residence:
1925 - 133 E H, Eureka, Humboldt County, California.
Occupation:
1925 - Nurse.
Married: Dr. Carl Tufts Wallace about 1927 in Humboldt County, California.

1910 Census
Name: Frances H Honarin
[Frances H Douarin]
Age in 1910: 8 [6]
Birth Year: abt 1902 [abt 1904]
Birthplace: California
Home in 1910: Mad River, Humboldt, California
Race: White
Gender: Male
Relation to Head of House: Son
Marital Status: Single
Father's Name: Frank J Honarin
Father's Birthplace: California
Mother's Name: Lula M Honarin
Mother's Birthplace: Kansas
Neighbors: View others on page
Household Members:
Name Age
Frank J Honarin 31
Lula M Honarin 31
Thad J Honarin 11 [10]
Frances H Honarin 8 [6]


1910 Census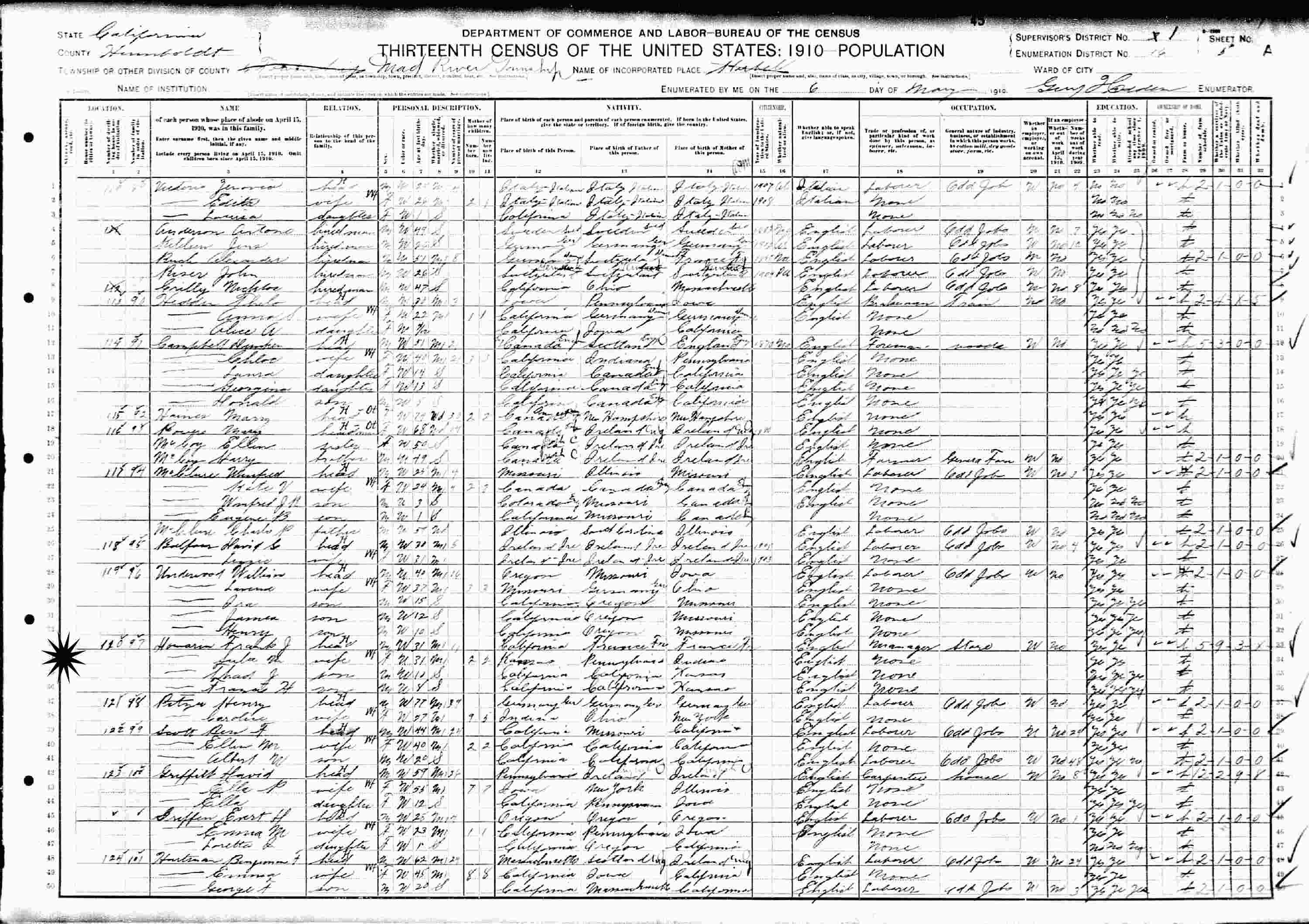 1920 Census
Name: Francis Douarin
Residence: Korbeltown Mad River Township North Fork Precinct, Humboldt, California
Estimated Birth Year: 1903
Age: 17
Birthplace: California
Relationship to Head of Household: Daughter
Gender: Female
Race: White
Marital Status: Single
Father's Birthplace:
Mother's Birthplace:
Film Number: 1820098
Digital Folder Number: 4293698
Image Number: 01058
Sheet Number: 12
Household Gender Age
Parent Sula Douarin F 41y
Thaddeus Douarin M 21y
Francis Douarin F 17y


1920 Census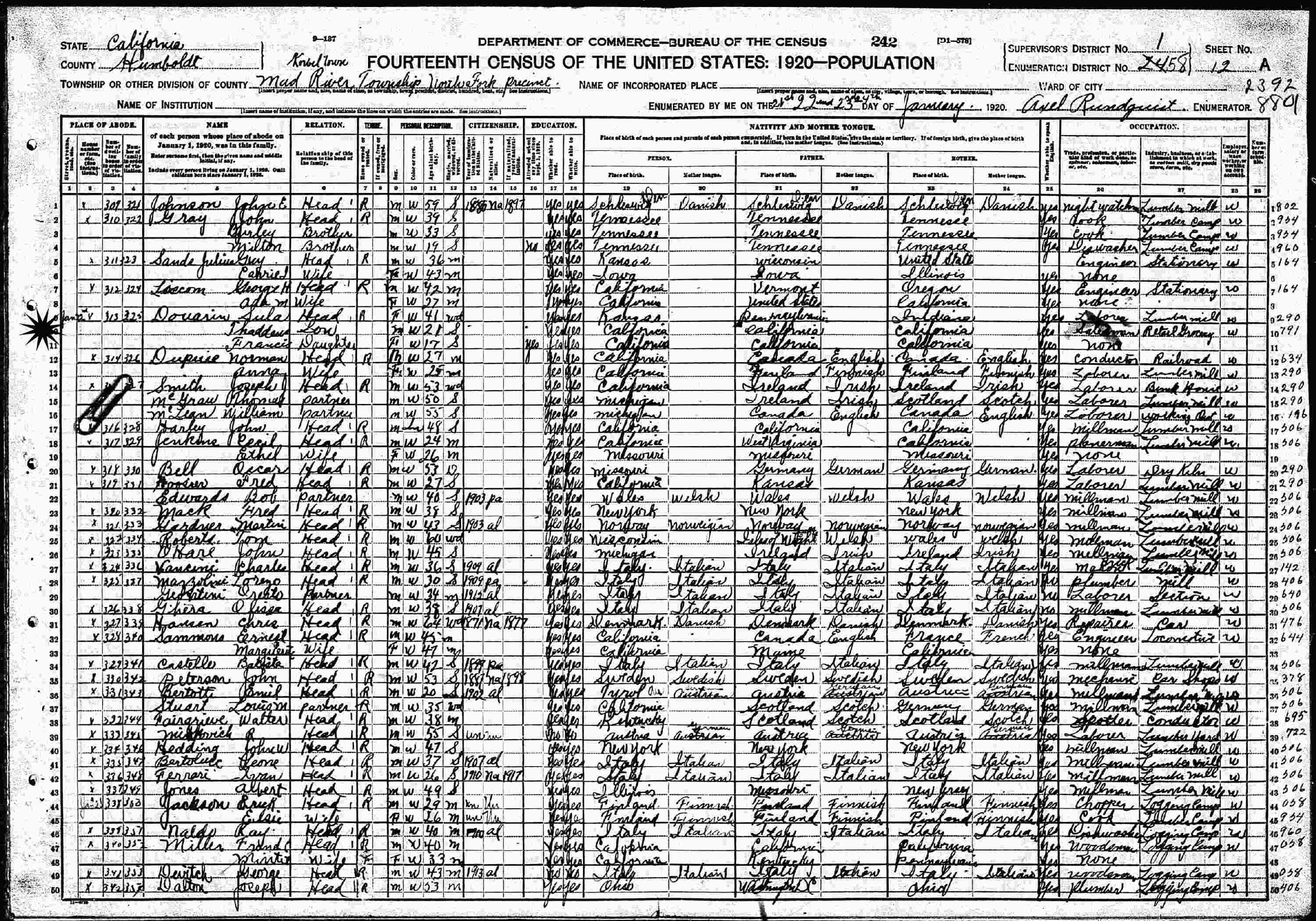 1930 Census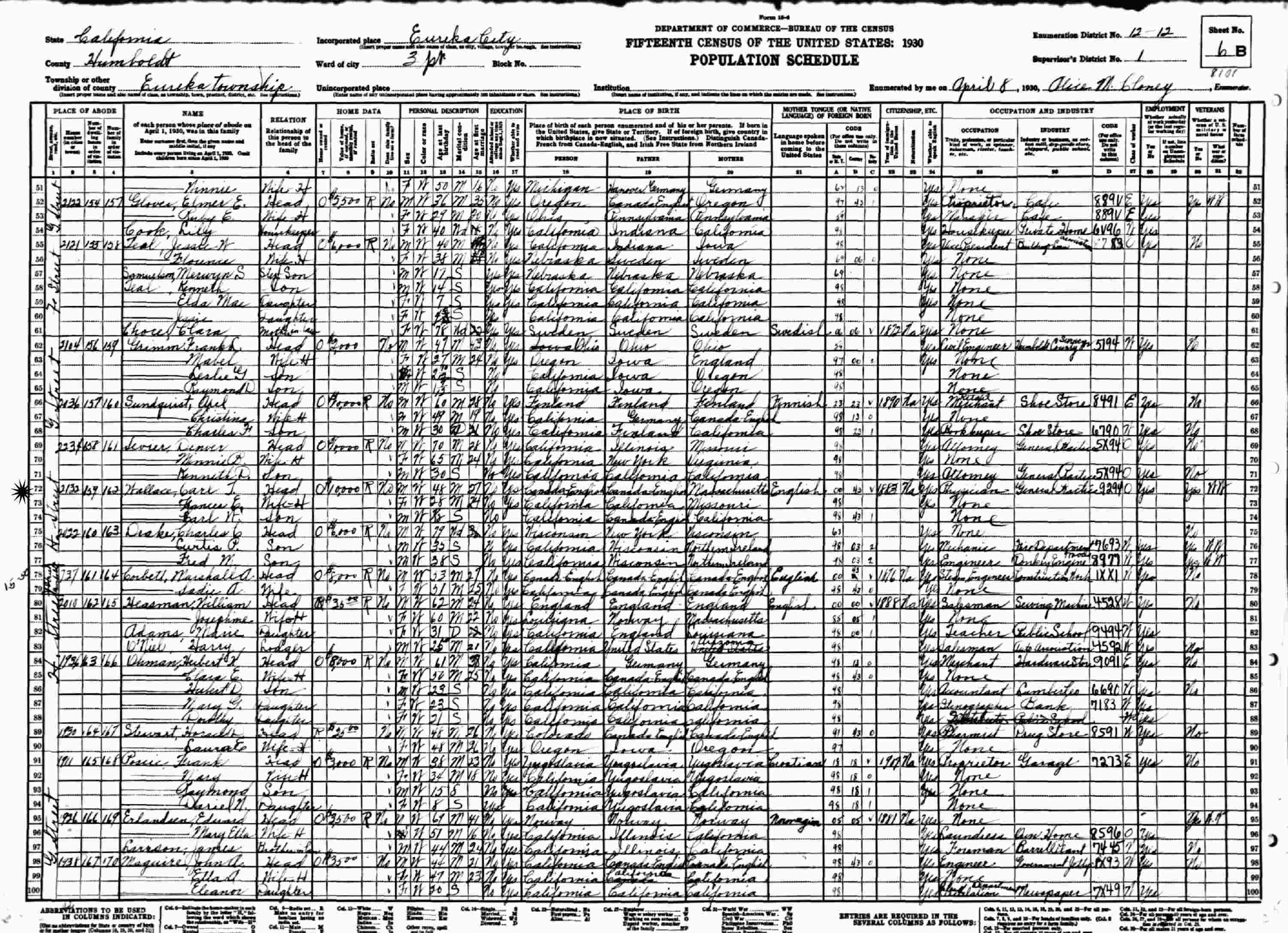 1940 Census



1925 Eureka City Directory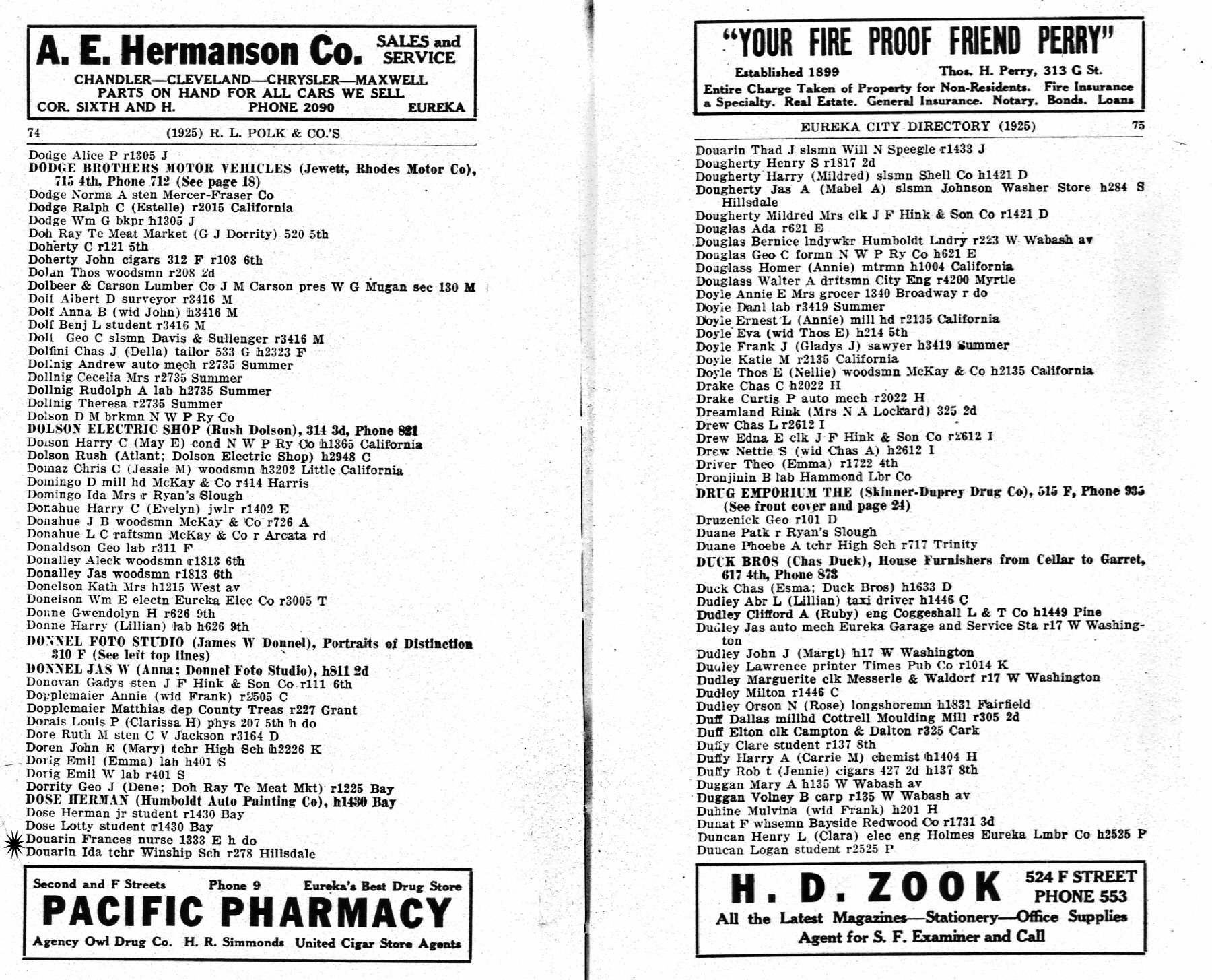 Database: Full Context of California & Californians, Vol. 4
California and Californians: Volume 4
SYCAMORE VALLEY RANCH formerly called SYCAMORE GROVE first camp of the PIONEERS June,1851 CAPTAIN JEFFERSON HUNT, AMASA M. LYMAN, CHARLES C. RICH, DAVID SEELEY. ANDREW LITTLE.
Doctor Wallace married Frances E. Douarin, who was born in Humboldt County, California. They have two children, Carl William and Marietta. Doctor Wallace is a member of the Humboldt County and California State Medical Associations. Since 1919 he has been county physician and is a member of the staff of the hospitals at Eureka. He belongs to the American Legion, the Veterans of Foreign Wars, the B. P. O. Elks, and is a Republican.