Notes for EDWARD CLYDE LAVERTY:

Son of Henry James and Helen (Douarin) Laverty.
Born: May 10, 1901 in Blue Lake, California.
Died: November 19, 1907 in Blue Lake, California.
Baptism: June 2, 1901 By Rev W Laffran, St Bernards RCCh, Eureka California. Sponsor: Dan McCahan & Nellie Powers.
Buried: Blue Lake Cemetery, Blue Lake, California.
Gravestone Marker: Our Darling/You Have Been Called Home 'Twas Gods Will.
Cause of Death: Brights Disease or nephritis, an inflammation of the filtering units in the kidneys.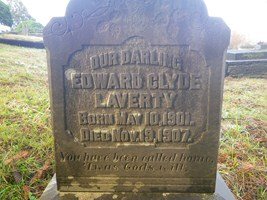 (Source: findagrave.com/Brian Hogan/"A. Seeker")